You don't really need any special skills or knowledge to work with our Object Mockups and create amazing presentations. They are very user-friendly and really easy to use.
The files you download are multilayered and contain smart objects and special layers. To make sure that all the smart layers perform well and function correctly we recommend you editing mockups in Adobe Photoshop, preferably CS6 or CC versions, but you can also present your design in the CS4 version and higher.
After downloading the purchased mockup to your PC, you need to unzip the archive with the mockup and open the TIFF file in Adobe Photoshop. Once it opens, you'll be able to start editing. The mockup is covered with the blue grid, which indicates the editable areas on the mockup and can be very useful while placing your design.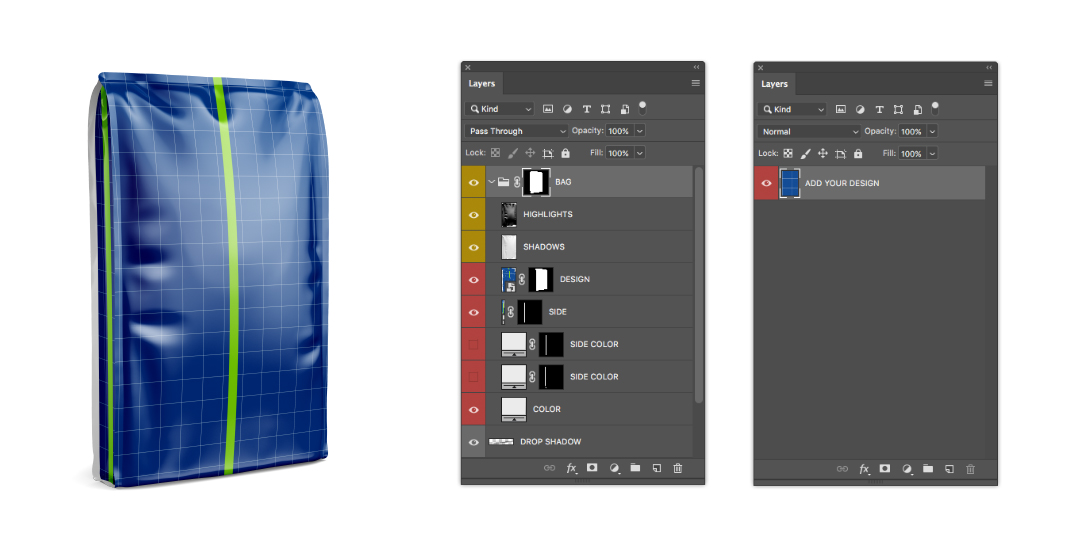 To edit the mockup, you mostly need to work with the layers. All of our mockups have a uniform and intuitive layer structure. Every layer has a very clear title, which reflects the main function of this layer.
Each mockup includes several types of layers:
Editable layers. They allow applying your design or recolor a certain part. These layers will always include words COLOR or DESIGN in their names. For example, the layer called SIDE COLOR will help you recolor the side panel of the object and the DESIGN layer will help you apply your design to the object or its certain part. These layers are also marked with

red

. You need to double-click on their icons to be able to edit them.
Highlights and Shadows. We have isolated highlights and shadows into separate layers, this way it's possible to adjust their intensity, darken or brighten them up. These layers are marked with

yellow

.
Special layers. Some of the mockups may include additional decorative elements, such as

Golden

or Holographic layers. Use them to add special effects to your design.
Drop shadow and Background. The background layer and the drop shadow are detached from the rest of the layers, so they may be switched off if you don't need them. The background layer has the function of being recolored as well.
Blank Image. This layer shows the entire object without any design or colors on it.
Before purchasing the Object Mockup you can download one of our Free Mockups and try it out!
We also invite you to check our Tutorials page! Over there we share step by step instructions on how to work with our Object Mockups and lots of other useful creative techniques.